---
4 minutes reading time ||| 4 perc olvasási idő
EN version
It's that time of the year again to conclude gas supply contracts. Both retail and wholesale markets are on a bumpy road for a year with exceptional high prices and exceptional volatile prices. The latter one is often overlooked, however in these conditions risk management strategies are directly affected by price volatility. Let's take a glance at a novel solution: using MGP index in Hungary.
For years it has been common that consumers receive offers including either fix prices, front month indexed prices, spot prices or a mixture of these. From the client's perspective the fix price results the most predictable cashflow, while the spot price is the most unpredictable. Talking about risks the front month index is somewhere in between. Nonetheless, a flexible price index leaves the possibility to benefit from falling prices. In practical terms – i.e. in Hungary – the relevant hubs mean TTF for the front month index, while spot prices used to be the formula of Dutch TTF + spread or Austrian VTP + spread and increasingly MGP (Hungarian Virtual Point).
Switching to MGP does have a moment now as the above-mentioned spreads have also become hectic recently.
Chart 1: CEEGEX (MGP), CEGH (VTP) & TTF DA prices and average spreads (2018-2022)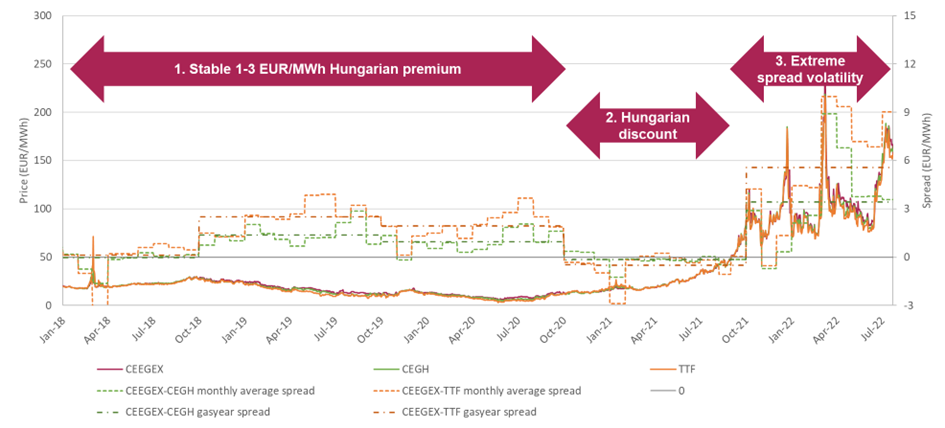 The historical evolution of TTF-MGP and VTP-MGP spreads can be divided into three phases:
Old world order: stable 1-3 EUR/MWh premium in Hungary compared to Western markets. This was in line with the transport costs, even though direct Dutch-Hungarian transport agreements were rare, but the Austrian-Hungarian interconnector was always fully utilized
MGP discount: with the appearance of Croatian LNG and the startup of RS>HU interconnector, the supply-demand equilibrium has changed, as discussed in this post
Extreme spread volatility: because of rising risks and volatile gas prices, present day
It's still unpredictable how long will the third phase last. An important factor is that gas markets are not just globally connected, but local events result local spikes, e.g. lower NordStream 1 flows more directly affect TTF price, while VTP or MGP prices can be more resistant with the stable – or even higher – Southern flows. These local specialties are also differently shaping the daily prices in Austria and Hungary.
Chart 2: VTP-MGP daily spread and rolling volatility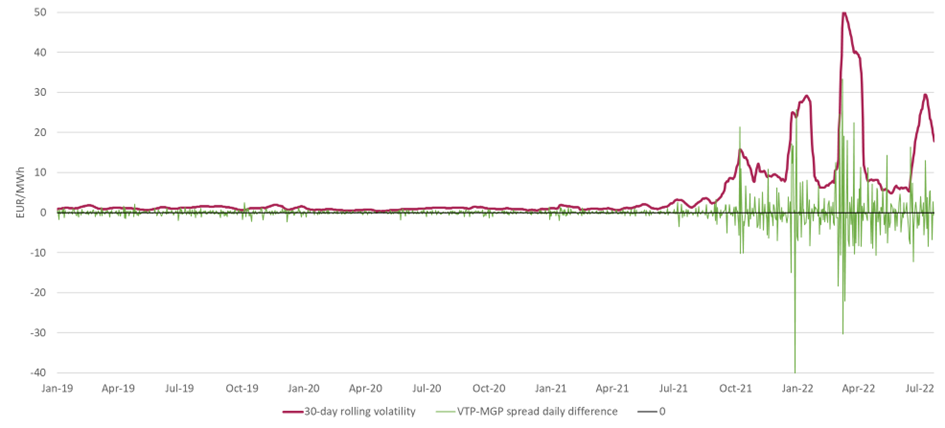 Chart 2 shows the highly unusual spread volatility. This is reflected in multiple areas:
The accepted level of cost of natural gas procurement for distinct heating is TTF + spread, where the spread will be 25 EUR/MWh from 1st October 2022, compared to previously common 1-3 EUR/MWh
Market participants expect spread in a very wide range, which means around 5-15 EUR/MWh for VTP and 10-25 EUR/MWh for TTF
In this gas year the monthly average CEEGEX-TTF spreads ranged between -0.5 and 10 EUR/MWh, while the monthly average CEEGEX-VTP spreads ranged between -1 and 9 EUR/MWh (as seen on Chart 1)
Minimizing the risk due to high spread volatility can be achieved with a novel solution both from consumers' and wholesale traders' perspective: use as local index as possible. The good news comes with the stabilized Hungarian spot market liquidity on CEEGEX around 30 TWh or 3 bcm per year, which is more than half of the domestic industrial consumption. If a gas supply contract includes full or partial spot indexation, then CEEGEX prices are the best solution in Hungary instead of TTF DA or VTP DA. Consequently, CEEGEX prices mean a genuine input for ICIS MGP price assessment, while more and more market participants already offer consumer contracts with CEEGEX prices. A personal opinion that this is good for the market and for the consumers too, and these traders with this niche idea will build an advantage compared to others.
 ---